Famous Lost Words
Short Stories: The definition, currently, is a story approximately 3500 words long. Traditionally the definition had a wider frame of between 500 and 10,000 words. Currently there's really short fiction for those how have no time... Most of us... I have accepted several long stories -- way over 3500 words. If I wasn't trying to be a paying market, I'd probably accept more . . . Because I understand.


I didn't read many short stories until I started editing Star Triad [which I don't do right now, but may open an online version sometime.]. I wasn't interested. Given the choice between something under 10,000 words and something over 90,000 words, I'd pick the latter. In 10,000 words, I am just getting warmed up to the character.
I have the same problem in my writing, at 10,000 words, I'm just getting warmed up -- which is probably why most critiques that read my short stories say, "Well, so what happens in the NEXT chapter...?"


The short story . . . page #497 . . .


Several years ago I read somewhere that if you wanted to get to know your main
characters really well, you would feature them in a short story for themselves only. I thought this was a great idea. I know have about 35 "short stories" . . . character sketches, you know . . . Okay, I admit, the shortest one I wrote was 100 pages . . . I had to force myself to stop at 200, 500, 750 pages (both sides handwritten).
I happen to be one of those people that just can't seem to stop a story. (I know there are others, I joined a group called "Long Story Writers" -- what it appears really to be is a group of people whose list of novels in the works start something like this: First Series, Volume One, Book One . . . Undoubtedly a chapter in?? . . . of?? Not-So-Short-Stories Anonymous . . . Sigh.
I'm with James Michner . . . "In 6 pages, I can't even say hello."


Index
Famous Lost Words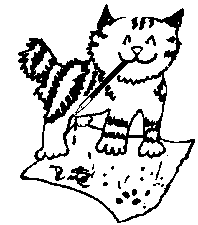 Writers have cats to keep their feet warm while they write. And to make sure they take breaks . . . and eat and silly stuff like that!