The Tiger's items are made to order, therefore, please allow 4 weeks for delivery. If you would like to know if something is available to be shipped immediately, please call or e-mail and ask. Otherwise, we are painting as fast as we can . . .

Postage rates are figured on Priority Mail, U.S.A. Special shipping, such as UPS, Overnight, Express are all available, please specify and call for the amount.




Any questions?
If you aren't sure of something you wish to order, please e-mail and request samples. (Up to a first class stamp's worth is free, includes a catalog.)
* All Tiger products are hand-crafted, so expect variations, especially in color.


Returns: Return merchandise within 25 days of shipment date, in original condition, with reason for return & we will refund your purchase price.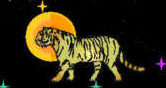 Tiger Moon Press
Single representative samples of most products are available upon request.
For several samples,
order a sample pack:
from $ 1 - $ 5
(sample cards will be seconds or without a back and without an envelope)

Brochures available on:
Stationery
Note Cards (any series, holiday, or all (but Christmas))
Christmas Cards
Calendars & Planners
Books (sample chapters and flyers)
Paper Catalogs
Complete 510 page catalog $ 10
Fall Sampler pack of new products $ 5--available now, 10/12/08